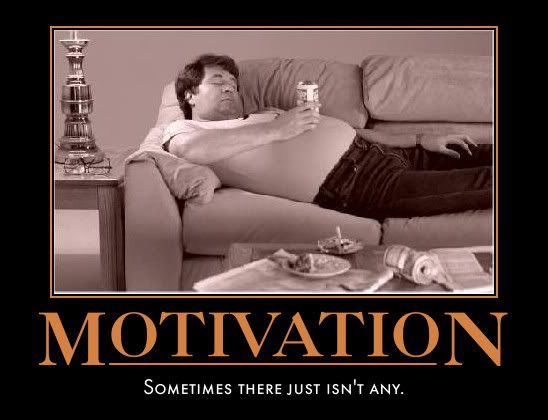 We all want to have the body of our dreams, and we all have one day where we are so ready to finally break free from our normal lives and start working out and getting in shape. Conversely, we've all had the stupor a few days to a week later in which you simply find that your energy has abandoned you, and you feel it is ok to take one or two days off from your workout program. Following that period is the next stage of "I'm busy today, I'll do it tomorrow." Soon, the whole phase is forgotten, and you are back to where you started, less satisfied than ever. This article helps you stay in the first energized, motivated stage, and progress into more serious workouts without slipping out of your workout cycles.
1. Hang a picture of your dream body on your ceiling with a picture of your head tacked on to it. Definitely considered childish by most, but a sure reminder that when you wake up every day, you are reminded of what you need to do. If this is the first thing you see every day, you will think of ways to achieve it and find ways to progress. Without this reminder, you might find your motivation and desire for success dwindling rapidly.
2. Work with a friend or friends. If you have a group to work together and you all encourage each other and compliment each other after each workout, boot camps are a great idea as well. You will feel a lot more motivated to do it frequently than if your reward is sitting in a room by yourself, rewarding yourself with some food. Friends can berate you to go out with them and work out, which is much more efficient than your own initiative. Get a friend to help you! It could be the most beneficial thing either of you have done to get in shape.
3. Make goals with a time period. The surest way to see if you are on track with what you want is setting a goal. It might be to lose a certain percent of your weight, get rid of flab, tone muscle, or something else. Take a large sheet of paper, and write in large letters what your goal is. Put this on the ceiling next to the picture, and when you wake up in the morning, after happily imagining yourself with your dream body, you can see your goal in writing. This, combined with a helpful friend, will move you forward. Include a time period with your goal. A goal with an indefinite time period removes the sense of urgency and need to succeed from your plans.
By following these tips to stay motivated, you will be able to focus on your goals and get your dream body that you deserve. Don't give up!