If you've ever trained for a marathon or for a bodybuilding competition, then you may have experienced this very real problem:  overtraining.  It's been called "the trap" that can derail an athlete's success. And yes, as a matter of fact, it's a very real physical condition.  Its cause?  Pushing the body too hard for too long of a time.  And it can be the result of too much exercise, too intense and exercise program, or both. So just what are the symptoms?  You'll recognize them as soon as they take hold of you:  poor performances, exhaustion and apathy.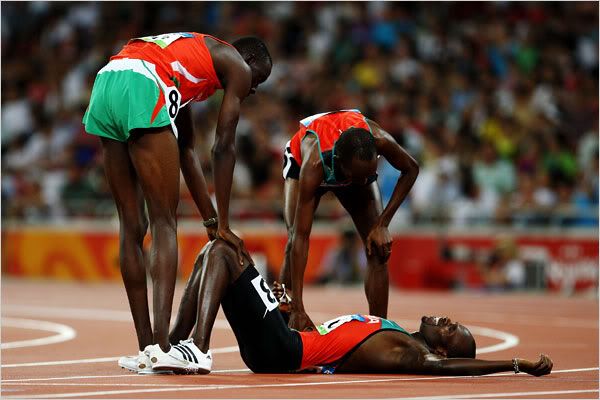 The spark is gone.
In the words of Dr. William O. Roberts, an internist at the University of Minnesota who specializes in treating athletes, overtraining can be described succinctly, when the athlete feels "the spark is gone."
To be a little more scientific, overtraining is best defined as the state in which the athlete has repeatedly stressed his body through training to the point in which rest is no longer adequate to allow for its recovery. It's the oxymoron of training.  In order to improve your performance, you've got to work hard at it.  But, inevitably hard training breaks you down and makes you weaker. In reality, though, it's only the rest you provide your body in between the training or the workouts that actually makes you stronger.  Think about it!
It's a known fact that physiological improvement in sports — any type of physical activity for that matter — occurs only during the period when you allow your body to rest.  It's only during this rest period that your body is performing all the necessary chores needed to rebuild your muscles as well as your cardiovascular system.
The most common symptom of overtraining is fatigue, which is probably severe enough not only to limit workouts, but be noticeable when you're at rest as well.  Other clues that overtraining may be occurring include a moodiness, irritability, changing sleep patters, depression and even the loss of competitiveness or lost enthusiasm for the activity.
But, overtraining may also raise its head through the symptoms of a decreased appetite as weight loss.  In some cases, the symptoms become even more severe.  Athletes who overtrain complain of muscle soreness that just won't go away, being more prone to injuries as well as experiencing an increased frequency of viral illnesses. Before you conclude that most of this is just in the person's mind, consider the results of several recent research projects.  Exercise physiologic, psychological and biochemical laboratory testing have shown there are specific biochemical changes occurring within the body in the midst of the overtraining syndrome.
Those individuals who experience overtraining also possess a lower level of testosterone, an altered immune status (which could account for the increased occurrence of viral illnesses) an increase in cortisol levels as well as an in increased in the byproducts associated with the breakdown of the muscles. The medical community recognizes physical and biochemical consequences of overtraining.  They classify this syndrome as a neuro-endocrine disorder.  The body's ability to repair itself, in essence, has diminished.  At this stage it doesn't do any good to perform more workouts.  In fact, it only  worsens the physical situation.
The ill effects of overtraining though may spill over to your home life or even your work life as you find that you're apathetic towards just about everything and everyone.  Additionally,  you'll also discover that your fatigue is serious enough to affect your performance in all areas of your life.
Treating overtraining?
If you're expecting a magic pill that you can take to suddenly take the symptoms of overtraining away, you'll be sorely disappointed.  The only effective treatment for this disorder is rest.  Be aware, as well, that the longer the overtraining has taken place, the more rest your body is going to need.  That's way discovering — and naming — overtraining early is crucial to a quick recovery.
If overtraining has only occurred for a month or less, then you may only need up to five days of recovery time to get back into the swing of things.  But don't jump into workouts on a daily basis to start.  It's best to slowly start your training program on an every-other-day schedule.
Indeed, you may also have to make a few more adjustments at first as well.  While  you may resume the same level of intensity at which you left, you may want to tone down the overall volume of the workout.  For example, if you were lifting weights, you can lift as much as before your rest for overtraining, but just don't go through as many reps.
If you don't pay attention to this piece of advice, then your symptoms may return.  Slowly you can return to the daily training you were experiencing prior to the overtraining. If you've overtrained for a period that exceeded a month, you may need to interrupt your training program for several weeks.  And indeed, it might even take longer to recover.
Yes, prevention is possible!
If you believe that overtraining is an inevitable process of the training program you're absolutely wrong.  The symptoms of overtraining can be avoided.  But you have to insurance that you gradually increase your training periods.
In fact, sports physiologists have devised a training schedule called a periodization.  This procedure helps you vary the training load in specific cycles or periods.  Each period comes with its own "built in" mandatory rest phase. During the higher workload phase, for example, your workout would alternate between a high-intensity interval work and low-intensity endurance work.
Another great way help prevent the experience of overtraining is to monitor your progress through the use of a training log.  In this long, you'd not only keep track of your activity — the distance you run if you're a runner or the intensity of your workouts But more than that, you can use the log to record your resting heart rate prior to your workouts, as well as your weight, and general health.  When you've completed your workout, you can also use this log to record how the workout felt to you, as well as how sore you are and how tired it made you feel.
If that sounds like a lot of writing, then just record the levels of soreness and fatigue on a ten-point scale.  If you find that any of these areas are adversely affected by a significant amount, then you may be in danger of experiencing overtraining syndrome.
Other significant prevention measures include avoidance of monotonous training regimes as well as the maintenance of  adequate nutritional habits.  If you feel as if you're developing a cold, then you should either reduce your scheduled training time, or even omit it for a day or two until the cold symptoms pass.