4-WEEK CLEAN & LEAN TEAM CHALLENGE
4 WEEKS OF NUTRITION GUIDANCE, COACHING & SUPPORT TO PUT YOU IN THE BEST POSITION TO SUCCEDD BEFORE GOING INTO THE HOLIDAYS.
What is this Challenge About?
Over the course of 4 weeks, Clean and Lean will cover nutrition, sleep, hydration, time management, and stress management. This goes beyond nutrition. This is a full-on lifestyle challenge designed to help you become a better, healthier you.
Accountability and social support are huge motivators. We know this from experience. So this challenge will be our first team challenge of the year! You have th
The beauty of this challenge is its simplicity: no calorie counting or cycling of macronutrients. Eat real food, and experience all the results. That's the name of the game.
In addition to nutrition, we'll cover topics such as self-motivation, finding your why, and circles of control just to name a few.
➡ "WHO IS THIS FOR?" ​⬅
Clean and Lean is for ​women and men​ who want to eat better, lose weight, and take control of their health—once and for all. In other words, this IS for you if you want to:
Lose weight and body fat (without dieting)

Learn a sustainable nutrition approach that fits YOUR lifestyle and gets results that last. That means no more yo-yo dieting!

Transform your relationship with food (no more guilt or shame)

Join or create your own team of 3-5 people to support each other, hold each other accountable and work towards a common goal together.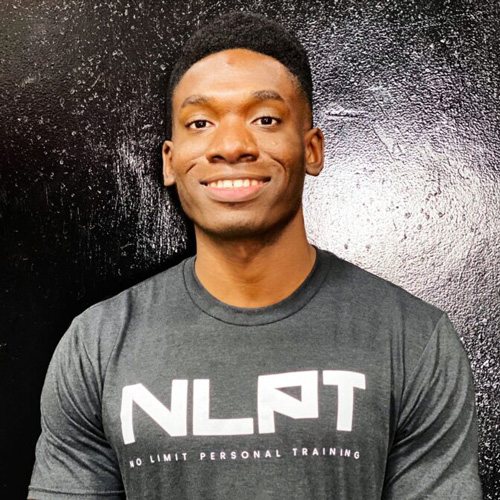 James King III
After living an unhealthy lifestyle for several years, James was more than 50lbs overweight and lacked confidence. At his lowest moment, it was difficult for him to even look in the mirror. After implementing many of the same strategies and systems he now uses with clients, he was able to lose over 50 lbs and keep it off for good! More importantly, he regained his confidence and felt like himself again. Since transforming his health, he has been dedicated to helping others experience the same changes I experienced through his own personal transformation.
Qualifications: BS in Kinesiology from Northern Illinois University, Certified Strength and Conditioning Specialist (CSCS), ACE Health Coach, ACE Group Fitness Instructor, Precision Nutrition Coach (PN1), ACE Weight Management Specialist, Functional Movement Screen Specialist (FMS).
Here's what people just like you have accomplished…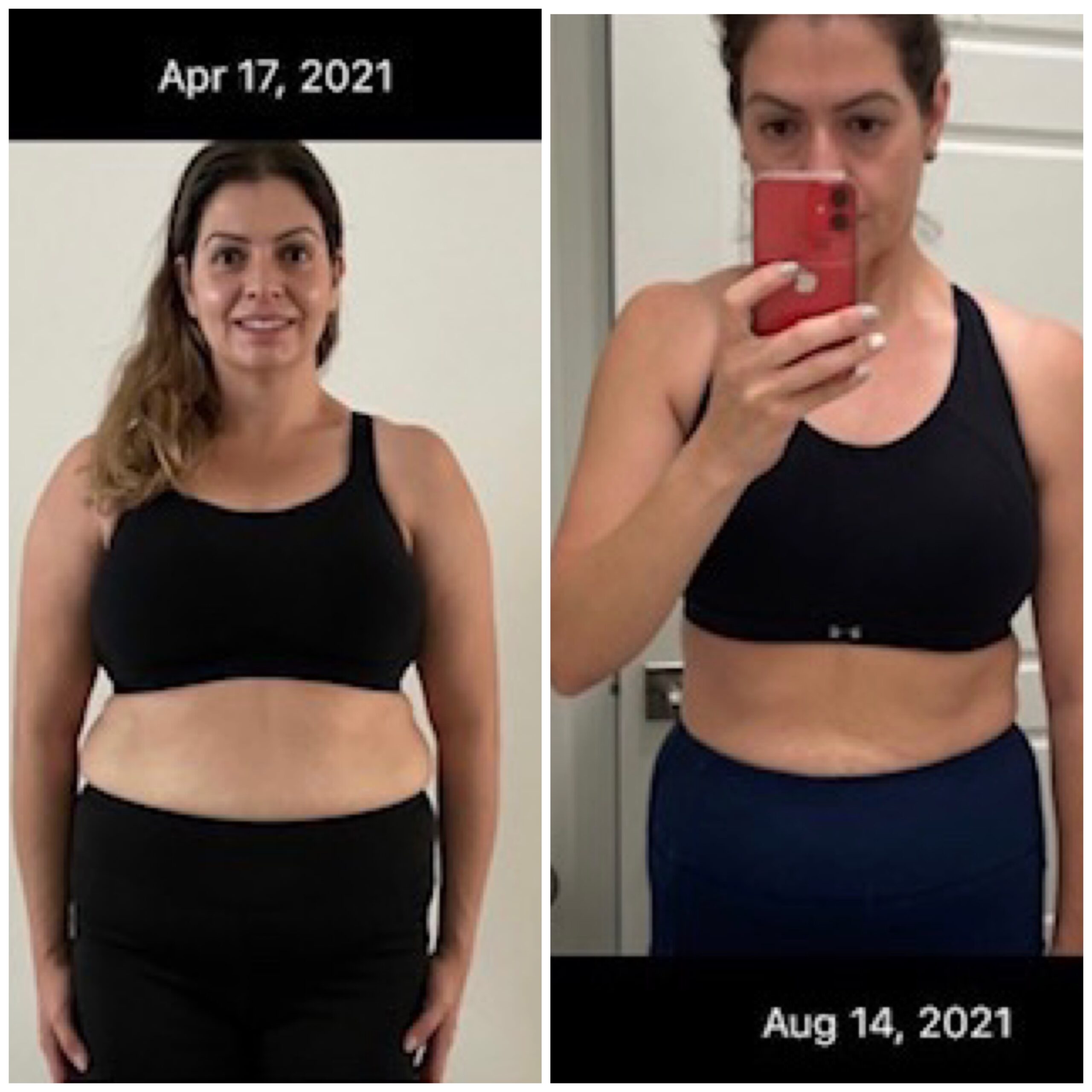 "My journey has been long but well worth it. After having two children it was time to focus on "me". I've always been a bit of a gym-goer but didn't know the importance of weights and nutrition until I started personal training. That was the beginning of my journey of weight loss, muscle building, and "correct" eating habits for long-term success. James has accompanied me with my weight loss journey on many levels. He's been an integral part of this process but it's not only about weight loss but living a healthy lifestyle. It helped that he was also once on his own weight loss journey that helped me sympathize and understand his valuable perspective. He's been easy to contact and was open to all questions regardless of how big or small. What helped me the most is understanding the importance of reading labels, eating whole food, and making adjustments on how I order when I go out and eat at restaurants. The little things that I've been taught have really made an overall difference. James has helped a tremendous amount and others should really get on board whether it's training or nutrition. The reality is that others should definitely utilize his knowledge but only if you are ready to make a commitment to change. I was able to make the big changes in my health goals because I stuck to James's advice and did not veer off course. I firmly believe that everyone can achieve their weight loss, muscle building, or health goals with his knowledge. I'll definitely keep his knowledge in the forefront of my mind to keep my healthy lifestyle going until my old age. James has been a health advocate, positive light, and a no-judgment coach. He understands that everyone is on their own unique course rather than other trainers who try to place a "one size fits all" approach. I've enjoyed the journey and inspiration he's given me. The best part of all of this is that everyone definitely sees the changes and are now asking for my advice and it's awesome that I can flex some muscles that I never knew that I had."
— Rosio
No Limit Group Training Client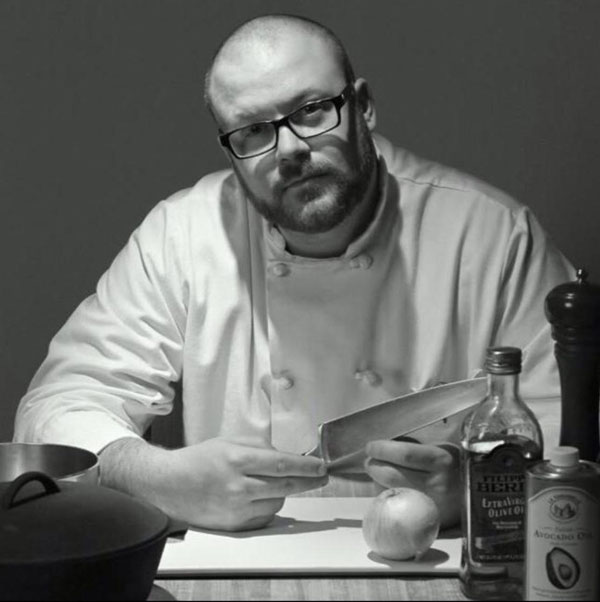 "I was afraid I wouldn't be able to really commit to eating healthy. Once I saw results, it was much easier to stay motivated. James' positive reinforcement helped me stay focused on the long term effects and this lifestyle change. My original goal when I started was to lose 30 lbs. So far, I've lost over 45lbs and feel much stronger. James has slowly helped save my life!"
— Josh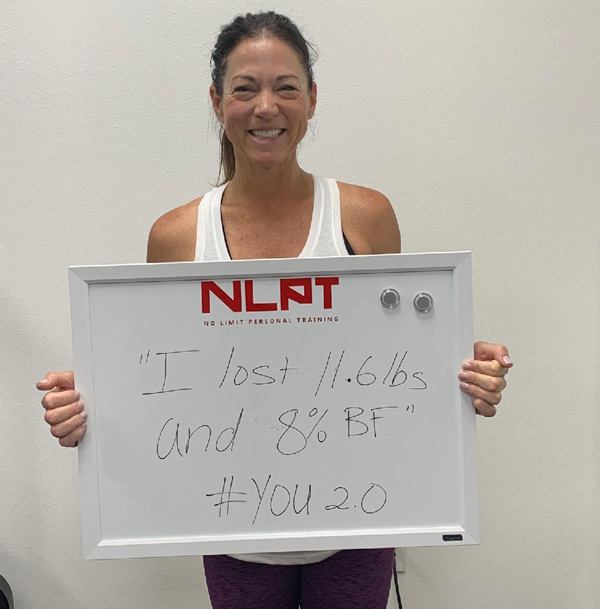 "I needed a push and this was it! I knew I needed to get back to being myself again.I saw how Coach James is living proof that this stuff works, so I jumped in with both feet! Nutrition Coaching has helped me lose 13 lbs, get to 16% body fat, and maintain my progress months later!!"
— Leah
No Limit Group Training Client
Expect to get Real Results by eating Real Food. No calorie counting or macronutrient cycling. Eat real food, that's the name of the game. 
Look forward to:
Daily accountability

Lifestyle and Nutrition coaching

Fun weekly movement challenges

Delicious recipes

Fun community challenges to encourage social support


24/7 access to your coach to ensure you stay on track
FREQUENTLY ASKED QUESTIONS
Are workouts included in this challenge?
For non-members there is a special rate to add-on 4-weeks of unlimited group training. (in-person)
Will my information and progress be shared?
No, all of your information stays confidential and will not be shared without your approval.
Do I have to be an NLPT member or local to join?
No, this is a remote program so you can join from anywhere in the world.
Will I have to count macros?
Will I have to follow a meal plan?
No, but recipes will be provided.