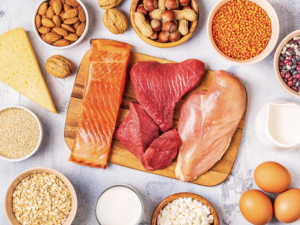 Did you know that most people don't eat nearly enough protein as they should? Protein has a TON of benefits. Below are a few:
Supports Muscle Growth and Repair

Helps Maintain a Healthy Weight

Supports Bone Health, Promotes Feeling of Fullness

Supports Immune Function

Helps Maintain Healthy Hair
Here are TEN ways to get more protein:
Lean Meat: Include lean meats such as chicken breast, turkey, lean beef, or pork in your meals. These are excellent sources of high-quality protein.

Fish and Seafood: Fish like salmon, tuna, and sardines are not only rich in protein but also provide omega-3 fatty acids, which are beneficial for heart health.

Eggs: Whole eggs are an affordable and versatile source of protein. They also contain essential vitamins and minerals.

Dairy Products: Milk, cheese, yogurt, and cottage cheese are all protein-rich dairy options. Greek yogurt, in particular, is an excellent choice as it contains more protein and less sugar compared to regular yogurt.

Legumes: Beans, lentils, chickpeas, and other legumes are not only high in protein but also provide dietary fiber. They are an excellent option for vegetarians and vegans.

Nuts and Seeds: Almonds, peanuts, cashews, chia seeds, and hemp seeds are all good sources of protein. They make for a convenient and healthy snack.

Quinoa: This whole grain is a complete protein source, meaning it provides all essential amino acids. It can be used as a base for salads, side dishes, or even in place of rice.

Tofu and Tempeh: These soy-based products are popular among vegetarians and vegans due to their high protein content. They can be used as meat substitutes in various recipes.

Incorporate Protein in Snacks: Protein-rich snacks like hard-boiled eggs, beef jerky, Greek yogurt, or protein bars. 
Remember to consult with a healthcare professional or a registered dietitian before making significant changes to your diet, especially if you have specific dietary requirements or health conditions.