Learn how to advance your basic kettlebell skills and
learn new kettlebell exercises to build strength and stability in your own training.
MARCH 26TH @ 7 AND 8:30 AM
ONLY 8 SPOTS!
Who Is This For?
This workshop is for anyone wanting to advance their basic kettlebell skills to the next level and learn how to connect kettlebell exercises together to make a flow.
This workshop is not a beginner session. It is for those who are already moderately familiar with kettlebells, and the kettlebell swing exercise.
How Can I Benefit From This?
This workshop can help people build comfort and understanding of kettlebells and their versatility in a physical training environment. You will learn exercises and techniques that we don't typically use in our group training class and understand their benefits.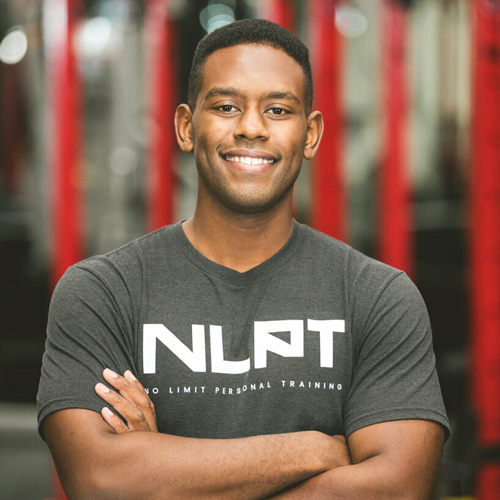 Daniel Hill
I was introduced to kettlebells about 10 years ago (in 2012) at a small bootcamp gym which utilized kettlebells as their primary form of weight. At the time I had very little training experience so I wasn't familiar with anything from dumbbell to barbell training. Naturally, I got used to training with primarily kettlebells as well as fell in love with physical fitness. I learned their versatility through many different exercises and movements and gained most of my physical strength with them over the years. A few years ago I began learning how to connect kettlebell movements together into one continuous "flow", which only grew my love for the tool even more. I enjoy sharing my knowledge and experience with others and creating kettlebell flows for others to either enjoy first-hand or for visual aesthetic enjoyment.
➡ What Will Be Covered? ​⬅
Daniel will be covering the most frequently used movements at No Limit Personal Training.
KB Goblet Squat

KB Front Rack Hold

KB Cleans (1-Arm & 2-Arm)

KB Swings (1-Arm & 2-Arm)

KB Snatches

KB Flow
ONLY 8 SPOTS AVAILABLE PER WORKSHOP!
FREQUENTLY ASKED QUESTIONS
Is this for NLPT members only?
Nope, this workshop is open to everyone!
How long is the workshop?
It will vary between 60-75 minuted based on the group.
How many people will be in the workshop?
8 people max per time slot to insure everyone gets the individual attention they need.