First Day of Large Group Training
at No Limit Personal Training Gym in Placentia, CA (Near Yorba Linda)
Ready to get Started
with Group Training?
We understand the first day of group training may be a bit intimidating; new gym, new people, new exercises, but do not fear, we are here to make your experience a success.
PLEASE MAKE SURE TO FOLLOW THESE STEPS BELOW BEFORE GETTING STARTED.
Please download the NLPT app,

APPLE

, or

GOOGLE STORE.

You will need to book every session on this app before coming in. We will not take walk-ins.

CLICK HERE

for a video with instructions on how to book.

CLICK HERE

to make sure your settings are correct. Lastly,

CLICK HERE

to learn how to sign-in to your sessions once you arrive.

Please only bring in essentials such as water or beverage of choice and a towel.

Make sure to sign in to the training session BEFORE the start time so you don't get charged for a no-show. This is not the same as booking, see the video above for instructions.

Grab 1-2 red rags at the front before you start the workout. You will use these to clean your equipment.

Wash and/or sanitize your hands before and after each training session.

After the session please clean all of your equipment and return them to the proper area.
Thank you for your cooperation, we appreciate it and look forward to working with you. If there's anything else we can do for you, feel free to call or text us at (714) 909-1203.
Here are a few tips to ensure a great training experience
Comfortable clothing: We recommend wearing light, moisture-absorbing fabric. Tank tops, t-shirts, shorts, leggings – whatever you find comfortable to train in. When it comes to footwear, running shoes are OK, but cross-training shoes will be your best bet, as your workout will be composed of multiple disciplines, such as running, jumping, change of direction, and strength training, and you want a shoe that will stand up to the task.
Fuel: Do you prefer to eat before you workout or do you prefer to workout on an empty stomach? There really is no RIGHT or WRONG answer, try them both, see which one works best for YOU, and go with that. We have clients that have great success with either option!
Pre-workout fuel ideas: If you DO choose to eat before you workout, what do you LIKE to eat? Choose foods you enjoy and know you digest easily, and consume it 1-2 hours before working out. If you need a general guideline, we generally recommend that a healthy mixed meal consist of 1-2 palms of protein-rich foods, 1-2 fists of vegetables, 1-2 cupped handfuls of fruits and/or carbohydrate-rich foods, and 1-2 thumbs of healthy fats. If you need some ideas of what foods go with each category, we have a handy card at the front desk that you can take with you!
Post-workout fuel ideas: You're in luck, because our post-workout meal guidelines are the SAME as in our pre-workout meal! And why is that, you ask? At No Limit, we believe in doing the simple things consistently and doing them well, and that includes nutrition. Enjoy a healthy mixed meal (see above) 1-2 hours after working out.
H2o: Hydration is very important for living a healthy life and being well hydrated will help your performance throughout. Please make sure to drink plenty of water before, during and after the workout.
Arriving on Your First Day
There is parking available in the parking lot in front of the building or parking along the street. Please refrain from parking in front of the neighboring businesses.
We recommend arriving 5-10 minutes prior to get acquainted with the Coach and the gym. It is very important to always arrive at least 5 minutes before the workout time to ensure you will be on time for the warm-up.
Please bring your own water. We have a machine to refill bottles if needed.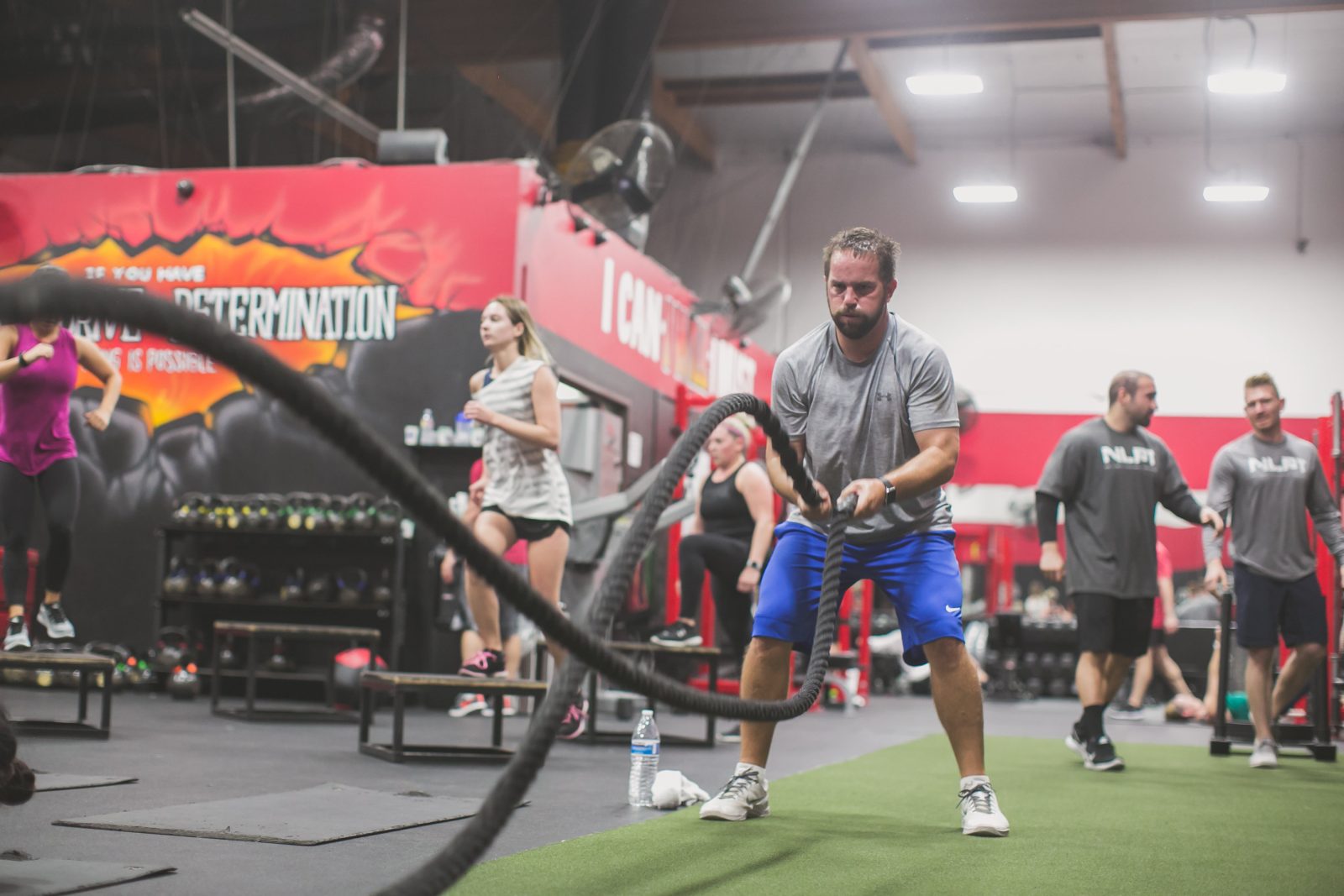 No Limit Personal Training is a semi-private and group training facility, offering customized workouts to help our clients achieve their goals. Our group training consists of full body strength and conditioning workouts. We always recommend to seek physician approval before getting started on a new exercise routine. The No Limit coaches are certified through various reputable personal training organizations. Our number one priority is the safety of our clients. We strive to provide a premium service which includes a safe and clean environment. It is important to us that our facility, equipment, and surfaces are satisfying to the client and we highly encourage if unsatisfying, please notify a team member right away so he or she may aid in resolving the issue. Lastly, be aware of how you are feeling during the workout. Our coaches seek to encourage and challenge our clients throughout the workout but only you can know what feels uncomfortable or painful. If at any time you experience any pain or discomfort, please let the coach know what you are feeling and what is causing discomfort so he or she may modify the exercise. If you feel lightheaded or faint during the workout, please don't hesitate to ask for assistance and immediately stop the workout.
Check out our Group Training Schedule to find your first class!
No Limit Personal Training Gym in Placentia, CA
Schedule your first Personal Training experience session or a 14-day Group Fitness trial membership now.