Whether you're new to exercising or you've been around the fitness industry for a while, you've likely heard of group fitness classes and instruction. You've surely heard of personal training as well. While both methods are excellent choices if you're trying to reach a health or fitness goal, one may be better suited to you based on where you are in your journey.
Let's take a closer look at some of the benefits of group fitness classes and instruction so you can make an informed decision about what makes the most sense for YOU.
#1: Group fitness makes it easy to stay motivated.
How many times have you started an exercise or nutrition program and then quit within a very short period of time? Without meaningful intrinsic or extrinsic motivational factors, that will happen every time.
When you exercise in a group, however, the encouragement of others can keep you motivated. You'll also get inspiration from seeing others who've progressed farther than you have. Use that as a tool to push yourself to do the uncomfortable so you can achieve your health and fitness goals!
#2: Group fitness classes and instruction help keep you accountable.
When you exercise alone, the only person who notices when you don't show up is YOU. If you're taking part in group fitness classes and instruction, however, your classmates and trainers are rooting for you every step of the way. Sometimes, that's just what you need to keep going.
#3: Learn how to exercise with the right form for maximum results and injury prevention.
Exercising won't do your body much good if you get injured in the process. In a group fitness class, your instructor will teach you the proper form and give you and your classmates feedback throughout the class. This prevents injury, helps ensure you keep doing the exercises correctly, and allows you to get the maximum benefit from the exercise program.
#4: Group fitness classes and instruction may be cheaper than personal training.
If you're new to fitness or just starting to learn how to invest in yourself, you may not yet be ready to pay for personal training or private nutrition coaching. Sometimes, group fitness classes can be the best financial option for you while still giving you an introduction to what a personal trainer can do for you.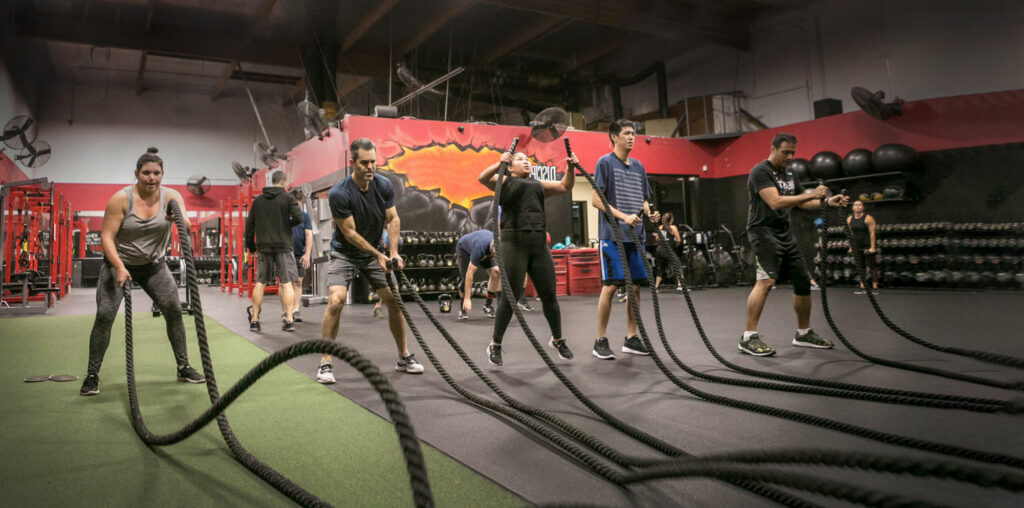 #5: Get support from like-minded individuals with similar goals.
Have you ever been the only one in your family to follow a specific nutrition plan? If so, you know how challenging it can be when everyone else eats one way and you're doing the exact opposite.
The same is true with exercise. Give yourself an advantage by working out with others who have similar goals, a positive mindset, and the motivation to become the best possible version of themselves.
#6: Group fitness classes and instruction are FUN!
There's no doubt about it … exercise can be hard work! But, when you work out in a group atmosphere with an energetic and professional trainer, work feels like fun. Plus, many group fitness classes and instruction include a variety of exercises, keeping things interesting and preventing boredom.
#7: You may get extra perks with group fitness membership.
Some gyms are only about exercise. You show up, do the work, and leave feeling exhilarated and well on your way to achieving your fitness goals.
Other gyms, like No Limit Personal Training in Placentia, CA, go the extra mile. We believe in not only teaching you the exercises that will help you achieve the body composition you desire, but also giving you other tools that propel you toward success.
For example, our Group Training 14 Day Trial comes with unlimited access to a whopping 37 training sessions per week. But, that's not all. We also provide a body composition analysis so you can measure where you're starting from. And, you get a 3 Step Nutrition Guide to help you with the nutrition side of your health and fitness goals.
Are YOU ready to experience the FUN and RESULTS that group fitness classes and instruction can provide? Simply contact us today to learn more or to sign up for our Group Training 14 Day Trial.