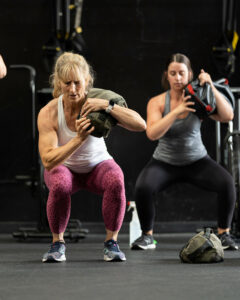 This needs to be talked about more often. Strength training has a TON of benefits. Especially as we age, strength training should be a staple in everyone's life. Below are just some of the benefits of strength training for women over 50. 
Physical Benefits:
Increased Bone Density: Strength training will help combat age-related bone loss, reducing the risk of osteoporosis. .
Improved Muscle Strength and Tone: Building muscle through strength training enhances overall strength, mobility, and balance.
Enhanced Metabolism: Strength training can boost metabolism and support healthy weight management.
Better Joint Health: Strengthening the muscles around joints helps reduce joint pain and stiffness, improving overall joint health and function.
Increased Functional Independence: Strength training will improve functional fitness, allowing you to perform daily activities with greater ease and independence.
Mental Benefits:
Improved Cognitive Function: Regular, consistent strength training has been linked to enhanced cognitive function, including improved memory and attention.
Enhanced Mood and Emotional Well-being: Strength training stimulates the release of endorphins, which will promote positive mood and reduce symptoms of anxiety and depression.
Boosted Confidence and Self-Esteem: Hitting your strength training and fitness goals will help boost confidence and self-esteem.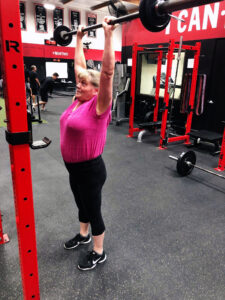 Emotional Benefits:
Stress Relief: Strength training is a huge stress reliever, which is crucial for overall health.
Increased Body Positivity: Engaging in strength training workouts promotes a positive body image, focusing on strength, ability, and functionality rather than appearance.
Sense of Empowerment: Strength training empowers women to take control of their health and fitness, fostering a sense of empowerment and self-efficacy.
These are just some benefits of strength training for women over 50. It not only improves physical health but also positively impacts mental and emotional well-being, promoting an overall higher quality of life.
If you're looking to add strength training into your daily routine but don't know where to start, CLICK HERE FOR A FIRST EXPERIENCE SESSION and we can review your goals and put together a plan.